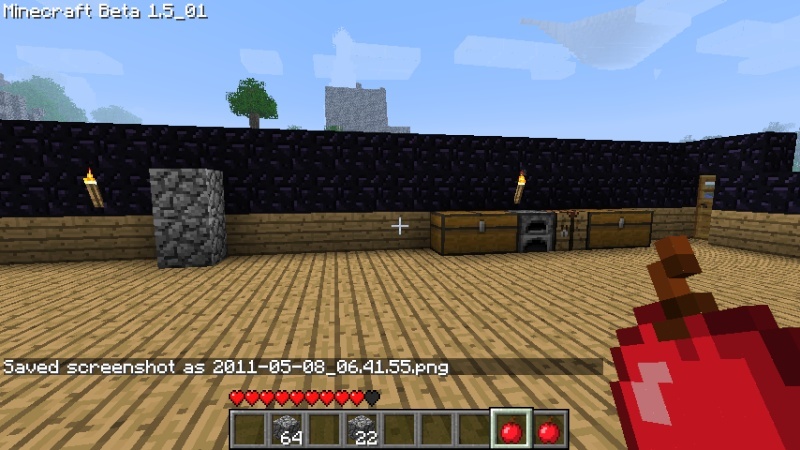 the stones he used to get out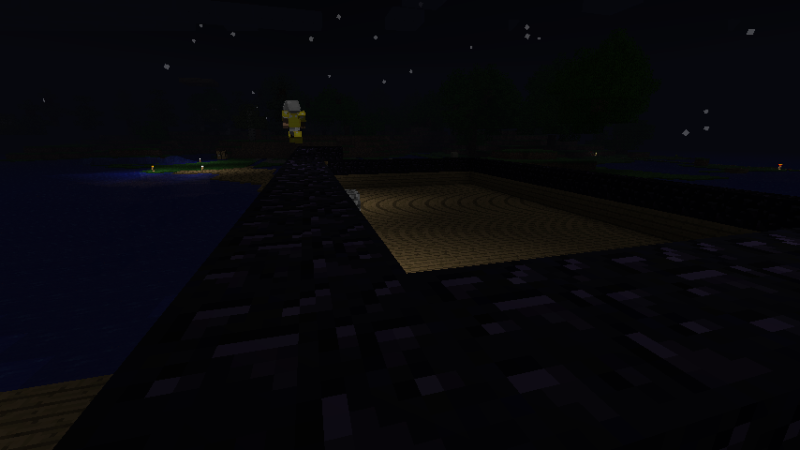 a pic of him running away
when i checked my stuff i lost 44 lapis 7 diamonds and 13 gold, i also found the same 2 cobblestone blocks again yesterday so this isn't the first time...
i wasnt done building my house, it is still in the process
the picture doesn't have names... so i asked what he was wearing and he wouldn't tell me....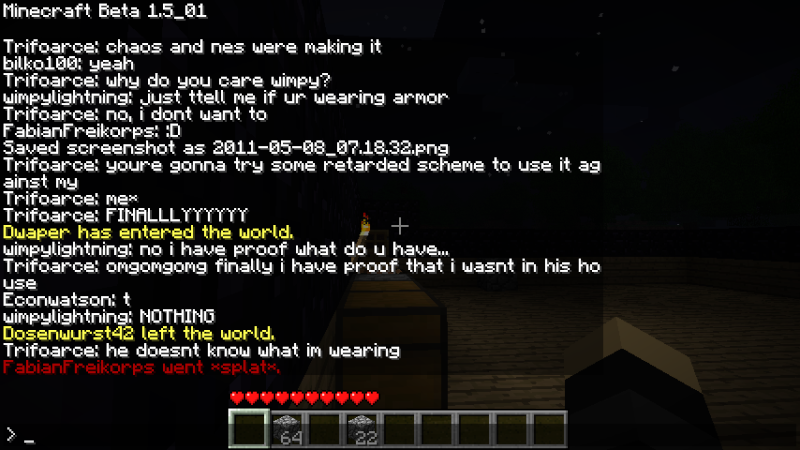 then he kept saying that i was Cool_chickeN (a person he got banned apparently)
point is he wouldn't tell me a lot of things and if ur saying u didn't do it, why would u care so much
Tree Puncher





Posts

: 5


Join date

: 2011-05-01



Well, I know its not easy to get, but it helps if your evidence actually shows them in the act of griefing or looking into your chests. However, we will look into this matter and thank you for bringing it to our attention. I'm not sure if you knew about one of Oasis's features, but you can protect your chests, signs, and doors by typing /cprivate and then punching the block. It will allow only you access to those items.

-[Guide] Nova
Diamond Miner





Posts

: 694


Join date

: 2011-02-27


Age

: 32


Location

: California, USA



The only issue I see with your argument is that before you took the second screenshot, you pressed f1, probably to get a better picture, but in the act you also hid his name.
Professional Miner





Posts

: 1023


Join date

: 2010-11-20


Age

: 20


Location

: Boston



yea i was rushing afraid to miss him nd accidentally clicked f1 before i clicked f2

but now im thinking it has to b a staff member cuz i had everything locked... very confused
Tree Puncher





Posts

: 5


Join date

: 2011-05-01



I can't see any reason for any staff member to be taking your stuff since nothing you have listed is banned.
Emerald Miner





Posts

: 836


Join date

: 2010-11-19


Age

: 21



Staff does not have a need for stealing items as we can spawn whatever we want. It is also likely that if he were staff, he would have been flying as most of us never move without it on :)
Diamond Miner





Posts

: 694


Join date

: 2011-02-27


Age

: 32


Location

: California, USA



gold armor sucks, why would i wear gold armor? fail.

yea, cool_chicken has like klepto. i tried to go somewhere with him and he just started taking anything of value.
then i got him banned for it, and three hours later he comes on his friends account, wimpylightning, and was like
"wtf are u doing in my house?", i was down in my mines, testing how far you could go on one diamond pick (pretty far it turns out), and there were like 10 of us on and no one said anything. so i was about to ask who, and he goes "TRIFORCE, what were u doing in my house?"

so im sitting here, already thinking its cool_chicken because wimpylighting was speaking the same nonsensical english that cool_chicken was. and it was all downhill from there. he was trying to accuse me with like 5 different stories that didnt coincide with eachother. and everyone was like dude ur making no sense. OH YEAH, then one person asked him "well, you have a screenshot, and itll have his name over his head right?" and he was like no, it doesnt. then everyone was like...yea... then u have no proof.

so i get on the forums a day or so after (now) (also, my sense of time sucks while im playing miecraft :P) cuz im looking for the list of mods we're allowed to use on the server, to no avail yet, and i see this post and lol cuz he posted a pic of someone standing in his house, which has no visible signs of griefing, wearing gold armor of all things, and no name above the "perpetrator's" head. lol, and in a house that looks like if sumone griefed it itd prolly end up lookin better.

but yea, he griefed my house on cool chicken, then tried to say that i griefed him to get me banned, and now is on another account trying again, and needs to be banned on that one too. lol, and i just saw that wimpylightning and cool chicken applied for member on the same day, within a minute of eachother... suspicious.

anyways long story short, wimpy needs to get banned as well.
Dirt Digger





Posts

: 13


Join date

: 2011-05-01


Age

: 26


Location

: Tennessee



Oh wow... This is quite a soap opera you guys have gotten started here. Better to give wimpy his stolen stuff and check out the whole wimpylightning vs Trifoarce member application thing. In my opinion at least. Oh, and you guys have better not be lying about anything, because any punishment dealt for any reason usually gets worse if the perpetrator lies about it. All I ask is that you guys tell the truth, and if you are, work together to work out who the thief is. Also, I agree with Trifoarce, make sure you get his name on the screen before you get the pic, that would help.
Last edited by J8cob1 on 5/11/2011, 12:07 am; edited 1 time in total (Reason for editing : I spelt the word "the" wrong. Fail.)
Gold Miner





Posts

: 330


Join date

: 2011-03-15


Age

: 21


Location

: United States




Similar topics
---
Permissions in this forum:
You
cannot
reply to topics in this forum